Dental Implants in Fremont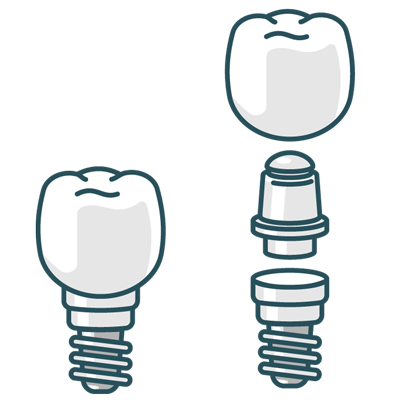 Is a Dental Implant right for you?
If you're looking for a durable, long-lasting solution to your missing teeth, dental implants are ideal. They are made of biocompatible material used in many areas of medicine for replacing body parts, such as hips and knees. Having an implant is like having your own tooth again. You can regain your ability to chew in comfort, and can help you retain your facial profile.
NEW PATIENTS

An Array of Implant Options
If both the tooth and root are damaged, a dental implant combined with a ceramic crown represents the best permanent replacement. This solution looks and functions like a natural tooth.
When replacing three teeth in the far back of the mouth, a fixed bridge anchored to dental implants is the only fixed option. Traditional dentures don't provide the same stability or function.
Dental implants replacing your lost back teeth will give you unmatched strength and stability that allows you to eat what you want. It will also preserve your jawbone and facial appearance.
When all teeth are missing, a fixed bridge anchored to dental implants is the best permanent solution.
Mini Dental Implants (MDIs) are designed to eliminate bone grafting and expedite treatment. The most common use for MDIs is the stabilization of dentures and overdentures. MDIs firmly anchor the dental prosthesis, which means there is no longer any need to suffer with ill-fitting, loose dentures.
For an implant to be successful and long-lasting, there must be quality and quantity of jawbone to which the implant will be attached. That's because if bone has been lost due to injury or periodontal disease, a sinus augmentation can elevate the sinus floor to allow for new bone formation so an implant can be placed.
Dental implants are usually not well supported when the jawbone has receded or sustained significant damage, so bone grafting is recommended in this case. This procedure is an excellent way to replace lost bone tissue and encourage natural bone growth. Bone typically taken from your body is added to the affected site and will fuse with the existing bone, causing firm adhesion and cell growth.
What to Expect
First Visit – Image Taking & Planning
We will do a 3D X-ray and CBCT scan. We will do the planning at that point, so that Dr. Yang can perform the implant surgery on your next visit.
Second Visit – Implant Surgery
Getting an implant is a minimally invasive procedure that only requires local anesthetic to numb the area. Please allow about an hour for this implant placement visit. You can return to work on the same day.
Third Visit – Restoration Placement
This appointment will take place about three to four months after the surgery, after the bone has integrated with the implant. We can finish it off with a crown or a bridge.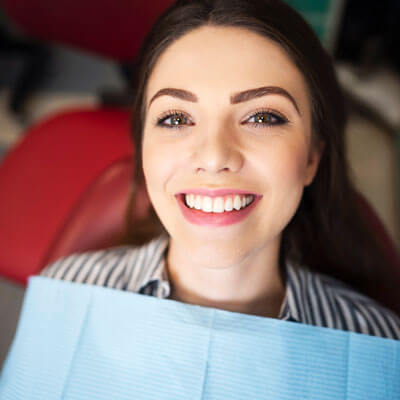 Benefits of Implants vs. Other Restorations
Permanent
Normally if you're missing a tooth, you have the option of either a dental implant or a fixed bridge, or a removable bridge. The advantage of the implant is that it's permanent. You don't have to take it out, as opposed to the removable bridge.
Another advantage of the implant over the fixed bridge is that the fixed bridge must be attached to the adjacent teeth. So you have to shave down the two teeth in front of and behind the missing tooth.
Easy to keep clean
With an implant, you can floss afterward, just like your own tooth. With a removable restoration, however, it comes out sometimes when you eat, and food can often get stuck under it. With a fixed bridge, you won't be able to floss those three teeth anymore, because they're all connected.
---
Frequently Asked Questions
How long will my implants last?
Implants will last a long time, over 10 years easily, and perhaps 20 or more. It all depends on how they're taken care of, and every patient's experience is different.
Is dental implant surgery painful?
For most patients, dental implant surgery is very easy to tolerate. Any post-operative discomfort can typically be managed with over-the-counter anti-inflammatory medication, such as ibuprofen or OTC pain relievers. Ice can also alleviate any potential discomfort.
How do I care for my implants?
You would care for your implants as you would your natural teeth: brush and floss daily, and visit your dentist for regular checkups and professional cleanings.

Dental Implants Fremont CA | (510) 797-2611