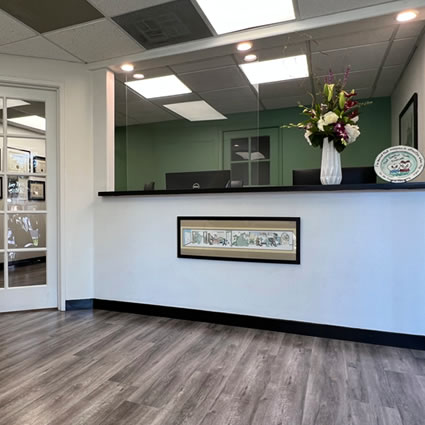 New Patients at
Jerry Yang, DDS
Welcome to our dental practice! We seek to make the new patient process as pleasant and seamless as possible. When you call, please let us know what you're coming in for. Some of our patients request a consultation or want to address a particular dental issue. We will also ask you if you want to schedule a cleaning.
What to Expect
Using our electronic patient engagement service, we will send all the paperwork to you, and you can complete it before your appointment. You'll provide your health and insurance information.
If you require assistance completing your forms, a member of our staff can help you. First, they will take your temperature and then check you in. When they are ready for you, you'll be escorted to one of the exam rooms. Otherwise, when it's time for your appointment, you will check in from your car and be escorted directly to your room when you come in.
We don't take X-rays every time. Dr. Yang will first determine what your needs are and decide what type of images to take. You may just require a panoramic X-ray. Or he may determine that you need a more detailed one, such as a 3D X-ray, to figure out what your particular dental problem is. If you've had X-rays taken within the past year at a different dental practice, you can bring them in, and Dr. Yang will review them.
After the exam and necessary X-rays, Dr. Yang will go over the options with you. Then, we'll have a discussion, and he'll answer whatever questions you have. He'll then present you with a customized treatment plan, and you can then schedule your next appointment if you like.
If you want to get started that day, Dr. Yang may perform some treatment at your first visit. It all depends on what you want to have done and what your circumstances are. If you're in pain, we want to help you that day.
Please allow 50 minutes to an hour for this first appointment.
We will verify your insurance coverage. Payment plans are also available.
In-House Saving Plan
No dental benefits? No problem! Do you wish you could get dental benefits, but the plans were too complicated or expensive? At Jerry Yang, DDS, you can get high-quality dental care at an affordable price with our easy to understand membership plan. Join our membership plan!

New Patients at Jerry Yang, DDS | (510) 797-2611